Co-Parenting Counseling
Research shows that only about a third of children are described as "doing well" three, five, and even 10 years after a divorce. Another third have persistent adjustment difficulties, while the final third are still intensely unhappy, angry, dissatisfied with life, depressed and deeply lonely.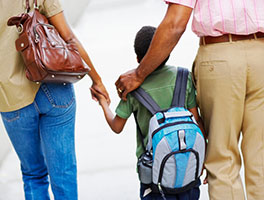 Is that the future you dream of for your children?
Specialists agree:
Shared parenting is what is best for children after divorce, including both week-day and weekend time with each parent,
Both parents should share the rights and responsibilities of parenting,
Parents, not judges, should decide what is best for children,
Family mediation and other relevant support services are vital to the success of shared parenting arrangements.
Co-Parenting Counseling helps you understand how your conflict and separation are affecting your children. Learn to minimize your children's burdens, as well as, reduce your own stress and life disruption.  
Give your children the future they deserve. 
Call (310) 614-0323 or email to make an appointment.
01.

Call today to see how I can help.

02.

Answers to questions you may have.

03.

Read how I can help you and your family.