Couples Therapy
No one is born with excellent relationship skills.  If you're fortunate to have grown up in a family highly skilled in communication, conflict resolution, and trust building, you had good role models. For most of us, relationship skills need to be learned.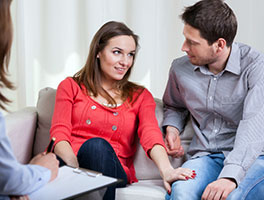 Pre-Marital Counseling
Research shows the quality and duration of a marriage is significantly improved in couples that participate in pre-marital counseling. The point is simple: Pre-marital counseling is the smartest decision any couple makes.
Couples Counseling
Half of all committed relationships fail in the first seven years. If you fail to get counseling to help solve your problems, you're throwing your relationship away without even trying.
Couples therapy restores communication, trust, and intimacy.
Discernment Counseling
When you and your spouse are struggling with the decision to stay married or get divorced, it's a tough spot to be in. What you need is to slow down, take a deep breath, and work through your options.
Discernment counseling is a maximum of five (5) sessions with a trusted counselor who helps you decide whether to restore your marriage, move toward divorce, or take a time out and decide later.
Break-up/Separation/Divorce Counseling
When ending any kind of relationship, it's natural to feel grief, loss, anger, frustration, confusion, sadness, overwhelm, and a sense that you'll never get through this.
Good news! With counseling, you move forward with dignity and practical, emotional tools.
01.

Call today to see how I can help.

02.

Answers to questions you may have.

03.

Read how I can help you and your family.